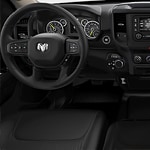 As a busy farmer or rancher, you appreciate having powerful and reliable vehicles at your disposal. Along with using tractors and combines on your spread, you also rely on vehicles like pickup trucks for hauling hay and working livestock.
One of the most reliable pickups available to you now is the Ram 1500, newly released by Ram, for ranchers and farmers like you. This truck has been specifically designed to haul the heaviest of loads. You can tow thousands of pounds in the pickup bed without putting strain and stress on the engine.
It also has a powerful towing capacity, letting you tow vessels like livestock trailers and flatbed hitches behind your pickup with ease. You can transport cattle to new pastures or take steers to market without having to rent a truck just for this purpose.
The Ram 1500 also has a multi-purpose bed gate. It swings from the middle for easy cargo.